VMI Keydets Ice Hockey



Formed

2004

Head coach

Daniel Berthiaume

Arena

Capacity

2,000

Location

Lexington, VA

Conference(s)

BRHC (2008-present)

Conference titles

0

Colors

Red and yellow

Website
The
VMI Keydets Hockey team
is the hockey team of the VMI Keydets. It is apart of the American Collegiate Hockey Association's (ACHA) Division III, and the
Blue Ridge Hockey Conference
. It is not in the NCAA, thus is not a varsity sport, so it does not recieve money from the school. The players and coaches must pay for all costs. They and the Liberty Flames Ice Hockey team compete in the
LaHaye Ice Center
.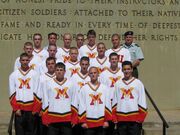 Will Durkee formed the non-varsity hockey club in 2004 and joined the BRHC in the for the 2004-2005 season, and since has made one BRHC playoff appearance. 
In the inaugural season for VMI in the Blue Ridge Hockey Conference, VMI went 5-3 under first year head coach Daniel Berthiaume. Two defeats over William and Mary and George Mason, plus Radford were enough to get them in the playoffs. The first round, VMI mauled Radford 6-1. They fell to VCU in the next round 4-2, as the Rams took the season series 3-0.
After a triumph over NVCC, the hockey squad lost 11 in a row, before defeating Radford 9-0 to end a miserable season. However, they won the "Military Classic of the South On Ice" in an exhibition game over Citadel. The losing skid included two losses each to William and Mary, George Mason, Catholic, James Madison, and VCU.
Success came harder to find in the 2010-11 season for the Keydets. Being swept by conference opponents Liberty, Roanoke, and Radford, VMI failed to make the playoffs with a division worst 0-10 record. They also fell in the Military Classic that year 5-4.
Year by Year
Edit
BRHC- Totals: 3 seasons
Year
GP
W
L
Regular season finish
Playoffs
2010-11
10
0
10
4th Southwest Conference
None
2009-10
13
2
11
-
None
2008-09
8
5
3
-
Lost semifinal to VCU, 4-2
Current Schedule
Edit
| Date | Opponent | Score | Location | Record |
| --- | --- | --- | --- | --- |
| September 18 | NVCC | L 6-0 | LaHaye Ice Center | 0-1-0 |
| September 24 | William & Mary | L 7-1 | Hampton Roads Ice Plex | 0-2-0 |
| October 23 | Liberty | L 9-2 | LaHaye Ice Center | 0-3-0 |
| November 5 | Radford | L 7-3 | Roanoke Civic Center | 0-4-0 |
| November 6 | Radford | L 8-2 | LaHaye Ice Center | 0-5-0 |
| November 19 | Roanoke | L 9-2 | Roanoke Civic Center | 0-6-0 |
| November 20 | Roanoke | L 6-2 | LaHaye Ice Center | 0-7-0 |
| January 15 | Liberty | L 5-2 | LaHaye Ice Center | 0-8-0 |
| February 4 | George Mason | L 5-2 | LaHaye Ice Center | 0-9-0 |
| February 5 | James Madison | L 13-1 | Main Street Arena | 0-10-0 |
Current Roster
Edit
Forwards
Defensemen
External Links
Edit